"Research on World Agricultural Economy" has been accepted by Scopus.
Scopus is one of the world's largest citation databases provided by the Dutch publishing company Elsevier. The database includes abstract and citation information from thousands of journals, conference papers, and books worldwide, covering research in various fields such as science, technology, medicine, social sciences, and arts. Scopus is considered to be an important tool for evaluating research impact and academic quality, and is therefore widely used and valued in academia.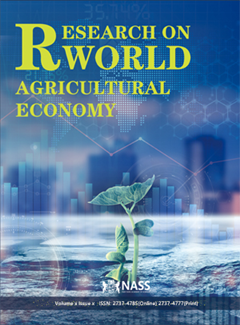 On June 22, 2023, Research on World Agricultural Economy was officially indexed by Scopus through the final review of the Content Selection & Advisory Board (CSAB) of the Scopus database. The journal aims to provide a platform for researchers in the field of agricultural economics to exchange and discuss ideas, and is dedicated to promoting development and progress in this area. As a new member of Scopus, the journal will be able to gain greater attention and recognition, enhancing its reputation and influence in the academic community.
Research on World Agricultural Economy (RWAE) is an international, gold open access journal. The journal aims to publish research related to agricultural economics with a focus on studies on agricultural policies, production, trade, and marketing, as well as analysis of global agricultural trends and their implications for economic development. By being open-access and peer-reviewed, the journal strives to ensure that its content is accessible to a wide audience and meets rigorous standards of quality and accuracy, serving agricultural economics and rural development.
The scope of the journal includes, but is not limited to:
Agricultural economics

Agricultural marketing

Agribusiness management

Agricultural productivity and innovation

Agricultural products trade and circulation

Food security

Agricultural resources and environment

Advanced technology research and promotion

International agricultural policy and development
The journal has published many important research findings, including high-quality papers and experiences shared by scholars from around the world. These research results not only provide valuable knowledge and insights for the academic community but also help policymakers and industry practitioners better understand and address current and future agricultural economic challenges.
In summary, "Research on World Agricultural Economy" being indexed by Scopus is a milestone worth celebrating. This achievement is not only an honor for the journal team but also a recognition and encouragement for the entire field of agricultural economics. We look forward to seeing more high-quality research published in this journal, making even greater contributions to the development and progress of this field.